AOTE PROTECTOR
Every section contains multiple redundant barrier chambers to enhance reliability.
Barrier chambers are available in labyrinth and bag types.
Shaft of protector usually uses Monel-k500 material. There are six mechanical face seals on it.
Thrust bearing used in seal section has high vearing capacity.
we can offer different types and series seal section to adapt individual well conditions.
Critical Function
1.Prevents well fluids from entering the motor.
2.Provides a reservoir for motor oil expansion and contraction caused by temperature and pressure changes.
3.Equalizes the internal pressure of the motor with the pressure in the well annulus.
4.Absorbs the pump shaft thrust on the seal thrust bearing.
5.The temperature type have 150℃ and l80℃.
SPECIFICATIONS
338 series Max. OD 3.38in/Min Casing Size 4 1/2in.
400 series Max. OD 4.00in/Min Casing Size 5 1/2In.
513 series Max. OD 5.13in/Min Casing Size 6 5/8In.
675 series Max. OD 6.75in/Min Casing Size 8 5/8In.
MATERIAL OPTIONS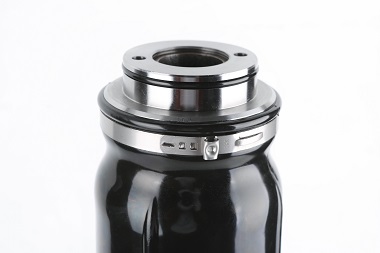 | | | |
| --- | --- | --- |
| Item. | Standard Material | Optional Material |
| Fasteners | S-Trim | M-Trim |
| Head and Base | CS | 304, 316, 416, 420, Duplex Stainless Steel |
| O-Ring | HSN | AFLAS |
| Bag | HSN | FKM, AFLAS |
| Thrust Bearing | Bronze | PEEK |
| D&F Valve | 304 | Monel R-405 |
| Plug | CS | Monel K-500 |
| Housing | CS | 304, 316, 9 Cr1Mo |
| Shaft | Monel K-500 | Inconel |
| Snap Ring | 304 | Inconel |
NOMENCLATURE
| | |
| --- | --- |
| Type | Description |
| L | Labyrinth |
| SB | Single Bag |
| LSL | Labyrinth Series Labyrinth |
| BSL | Bag Series Labyrinth |
| BSB | Bag Series Bag |
| LSLSL | Labyrinth Series Labyrinth Series Labyrinth |
| LSLSBPB | Labyrinth Series Labyrinth Series Bag |
| LSBPB | Labyrinth Series Bag Parallel Bag |
| LSBSB | Labyrinth Series Bag Series Bag |
| BPBSLSL | Bag Parallel Bag Series Labyrinth |
| BSBSL | Bag Series Bag Series Labyrinth |
| LSLSBPB | Labyrinth Series Labyrinth Series Bag Parallel Bag |
| BPBSLSL | Bag Parallel Bag Series Labyrinth Series Labyrinth |
| BPBSBPB | Bag Parallel Bag Series Bag Parallel Bag |